All of us crave for that perfect selfie where we are lounging in a street side cafe in Paris or skiing down the Swiss Alps or the chilling out in pristine beaches in Greece. But only some of us have the money needed to travel to these exotic locations.
So, we curated a list of 5 travel destinations in India in India which make you feel like you are overseas.
1. Pondicherry = French Riviera
Pondicherry was once the largest French colony in India. It's not surprising that it retains a strong French influence and is often called The French Riviera of the East (La Côte d'Azur de l'Est).  Most interestingly, along with Tamil, French is also understood by many.
Trick Shot Selfie: Buy a nice hat, lounge in a European-style cafe over a cup of espresso, a nice continental spread and tag yourself in Nice. Nobody will make out the difference. Chances are you will be surrounded by firang tourists who will be mistaken for locals.
2. The Great Rann of Kutch = Salar de Uyuni
While Salar de Uyuni, amid the Andes in southwest Bolivia, might be the world's largest salt flat, the Rann of Kutch in Gujarat isn't too far behind. Measuring over 10,000 sq kilometers, this majestic salt flat goes underwater during the monsoon. However, for the rest of the year, it is one hell of a photo op.
Trick Shot Selfie: Leave early before the sun goes up. Get off the road, walk into the white marshy desert. Take a friend to click that picture. Jump up in the air. Ask the friend to click. Tag yourself in Salar de Uyuni. For miles, there won't be any humans. You might as well be on an alien planet.
3. Gulmarg = Swiss Alps
Switzerland, anyone? Gulmarg, the premier skiing destination of India, is the place you must visit if you were to experience the snow clad Alpine peaks of Switzerland at a much cheaper budget. Kashmir has been more or less calm over the last few years, but still make sure you check the latest before booking.
Trick Shot Selfie: Easy. Get to a snow clad peak. Hire skiing gear — even if you don't know how to ski. Make sure nobody else is in your frame. Type: "Perfect day for a ski! #SwissAlps." Hit send.
4. Yusmarg = Irish Meadows
The name literally translates to "The meadow of Jesus." Locals believe that Jesus visited the place. Just about 50 kilometers from Srinagar, Yusmarg gets significantly less number of tourists than Gulmarg or Srinagar. Yet, if you did decide to dive in, its incredible meadows and lush green valleys would gives a number of European destinations, especially Ireland, a run for their money.
Trick Shot Selfie: Buy a beer mug. Pour some Thums Up. Click a pic. Type "Dowing some fine Irish Stout in…where else but Ireland?"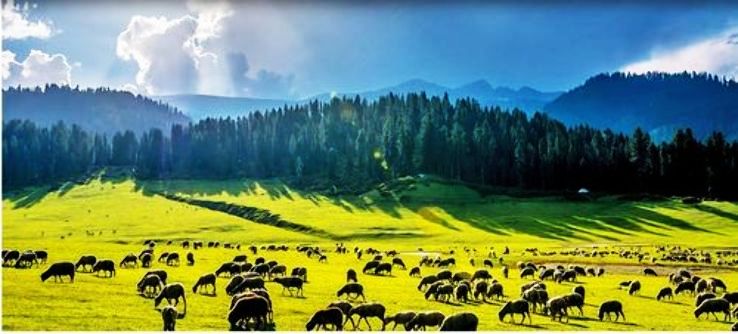 5. Andaman & Nicobar = Thailand
Some of Thailand's best beaches lie on the Andaman Sea, and tourists flock to dip themselves into the azure blue water or laze through the day in hammocks. Yet, Andaman & Nicobar's archipelago of 600 islands, even though part of India, are geographically closer to Myanmar and Thailand, are far more tranquil. In your next trip, consider this before long-haul flight to other parts of South East Asia.
Trick Shot Selfie: Not needed. Just go to any beach in Andamans and click a pic. This travel destination is just heaven on earth.
(If you have been to any of the above places, and want to get featured on our channel – send in a video talking about it along with your photographs to [email protected])